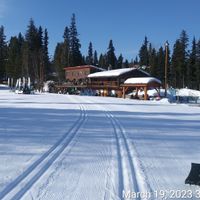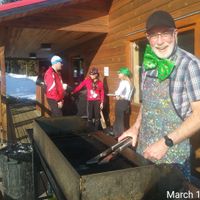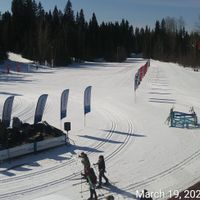 Monday 20-March'23
Short: Good skiing, best on the recently groomed trails until late morning.
Long Version: The spring grooming & skiing conditions have started, which is weather, temperature, & snowpack driven. Both snocats are grooming skate lanes & resetting tracks this morning, but as it is a slow process, there is only so much that can be groomed @ snocat speeds of 2 - 6 km/hour. We will skidoo/ginzoo many of the skate lanes that are not reset with the snowcats.
Different trails will be groomed each day, with a bit more attention on the trails that receive the highest use.
Areas that are highly canopied & get direct sunlight for multiple hours, will get softest first, harden the most, and will be the icyest in the morning before the sun or a snocat gets to them.
For skiers that want a taste of the backcountry, (or as close as we can get to that at Otway), this depth of snowpack has made the Dogpatch trails (accessible from Sundog) quite delightful for classic skiers. There is/are 1+ exciting roller coaster dips in the trail, be 4-warned! It would be best to do this later in the day, after the snow softens a bit. Otherwise the surface will be hard & nasty.
Greenway: The Greenway Trail surface was compacted March 8th, prior to the last 5 cm snowfall. It is skiable with caution. (Notice the term "compacted", we didn't say groomed!) The hills have not been widened so if you go - take care. No tracks set. A little rough in places. This is NOT a beginner trail. Just like the Dog Patch trails, the depth of the snow means this/these is/are the best trail conditions all season, and likely the best trail conditions since the winter of '13. Later in the day will be better.
Brewski Debrief: A raging success. Tickets sold out with a begging wait list within 24 hours. The army of voluntolds volunteered/worked their you-know-what's off. Perfect temperatures, sunshine, and a good snowpack didn't hurt.