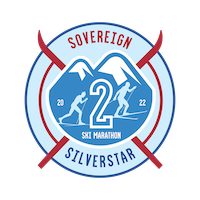 Sovereign Lake NC and SilverStar Mountain Resort are teaming up to present the Sovereign2SilverStar Ski Marathon. A point to party event with two of everything: two days (classic and skate), two distances each day (40km and 21km), and two ski areas (start at Sovereign Lake and finish on Main Street of SilverStar village).
Finishing is Winning: After the 'competitive' waves start, the smaller 'fun' waves will be spaced out to allow everyone to enjoy their time on the trails. With the largest daily groomed network of Nordic trails in Canada, there are no laps or repeated trail sections, just a lot of scenery.
The two areas are working together to build an adventure that carries on well after the skiing is done. When you get to the finish line you're just getting started as the party gets underway at the great local restaurants and bars.