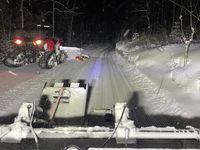 We had about 3" of new snow at the start of the morning and set classic track and skate surface on almost all of todays GPS tracked grooming.
We are continuing to pack additional trails to establish a base on areas we have not groomed yet.
Continue to use caution as this new snow has covered hazard spots you may not see.
Enjoy
Reported on
Nov 29, 2022
at
2:26 PM
by
Shawn be Groomin
| | ABC | Distance | Open | Last Groomed |
| --- | --- | --- | --- | --- |
| | Audun | 3.75km | | |
| | Bamse | 4.09km | | |
| | Biathlon | 0.73km | | |
| | Biathlon Lane | 0.21km | | |
| | Biathlon Snow Show | 0.45km | | |
| | Blue Ridge | 8.48km | | |
| | Blue Ridge Loop | 2.42km | | |
| | CCO | 1.11km | | |
| | CCO2 | 0.02km | | |
| | Cranmer | 2.44km | | |
| | Davis | 0.29km | | |
| | Donner Pass | 0.43km | | |
| | Eagle Valley | 2.2km | | |
| | Gaskill | 3.49km | | |
| | Goldie | 0.25km | | |
| | Heckmann | 2.02km | | |
| | Homestead Snowshoe | 1km | | |
| | Hwy 40 Underpass | 0.34km | | |
| | Just | 6.38km | | |
| | Just Connector | 0.2km | | |
| | Just To Wilson | 0.24km | | |
| | Keenan | 1.31km | | |
| | Loppet | 0.89km | | |
| | Loppett's | 1.36km | | |
| | Lower Blue Ridge | 1.43km | | |
| | Lower Young | 0.73km | | |
| | Lowery | 0.2km | | |
| | Lynch | 1.77km | | |
| | Mill Gulch | 0.65km | | |
| | Milligan | 1.51km | | |
| | Old Lynch | 2.81km | | |
| | Penalty Loop | 0.09km | | |
| | Pole Creek | 2.5km | | |
| | Silvers | 1.5km | | |
| | Slim Jim | 2.16km | | |
| | Steve's Alley | 0.5km | | |
| | Swenson | 0.94km | | |
| | Tabernash | 1.15km | | |
| | Ten Mile Creek | 2.14km | | |
| | Totally Wired | 3.47km | | |
| | Totally Wired Connector Snow Shoe | 0.05km | | |
| | Travis | 1.76km | | |
| | Unknown | 0.16km | | |
| | Upper Young | 1.34km | | |
| | Ute | 1.11km | | |
| | Wild Turkey | 0.66km | | |
| | Wilson | 1.78km | | |
| | Yurt Loop | 1.06km | | |
| | homestead | 0.82km | | |
| | Easy | Distance | Open | Last Groomed |
| --- | --- | --- | --- | --- |
| | Biathlon Snow Show | 0.45km | | |
| | CCO | 1.11km | | |
| | CCO2 | 0.02km | | |
| | Homestead Snowshoe | 1km | | |
| | Hwy 40 Underpass | 0.34km | | |
| | Just | 6.38km | | |
| | Keenan | 1.31km | | |
| | Loppet | 0.89km | | |
| | Loppett's | 1.36km | | |
| | Lower Blue Ridge | 1.43km | | |
| | Pole Creek | 2.5km | | |
| | Silvers | 1.5km | | |
| | Steve's Alley | 0.5km | | |
| | Tabernash | 1.15km | | |
| | Totally Wired Connector Snow Shoe | 0.05km | | |
| | Ute | 1.11km | | |
| | homestead | 0.82km | | |
| | Intermediate | Distance | Open | Last Groomed |
| --- | --- | --- | --- | --- |
| | Bamse | 4.09km | | |
| | Biathlon | 0.73km | | |
| | Biathlon Lane | 0.21km | | |
| | Davis | 0.29km | | |
| | Donner Pass | 0.43km | | |
| | Gaskill | 3.49km | | |
| | Goldie | 0.25km | | |
| | Heckmann | 2.02km | | |
| | Just To Wilson | 0.24km | | |
| | Lowery | 0.2km | | |
| | Milligan | 1.51km | | |
| | Penalty Loop | 0.09km | | |
| | Slim Jim | 2.16km | | |
| | Swenson | 0.94km | | |
| | Ten Mile Creek | 2.14km | | |
| | Travis | 1.76km | | |
| | Wilson | 1.78km | | |
| | Yurt Loop | 1.06km | | |
| | Nothing Groomed Today | Distance | Open | Last Groomed |
| --- | --- | --- | --- | --- |
| | Advanced | Distance | Open | Last Groomed |
| --- | --- | --- | --- | --- |
| | Audun | 3.75km | | |
| | Blue Ridge | 8.48km | | |
| | Blue Ridge Loop | 2.42km | | |
| | Cranmer | 2.44km | | |
| | Eagle Valley | 2.2km | | |
| | Just Connector | 0.2km | | |
| | Lower Young | 0.73km | | |
| | Lynch | 1.77km | | |
| | Mill Gulch | 0.65km | | |
| | Old Lynch | 2.81km | | |
| | Totally Wired | 3.47km | | |
| | Unknown | 0.16km | | |
| | Upper Young | 1.34km | | |
| | Wild Turkey | 0.66km | | |
| | 1-3 Days Ago | Distance | Open | Last Groomed |
| --- | --- | --- | --- | --- |
| | Biathlon | 0.73km | | |
| | Pole Creek | 2.5km | | |
| | Swenson | 0.94km | | |
| | Donner Pass | 0.43km | | |
| | Milligan | 1.51km | | |
| | homestead | 0.82km | | |
| | Lower Blue Ridge | 1.43km | | |
| | Lower Young | 0.73km | | |
| | Upper Young | 1.34km | | |
| | Eagle Valley | 2.2km | | |
| | Blue Ridge Loop | 2.42km | | |
| | Lowery | 0.2km | | |
| | Biathlon Lane | 0.21km | | |
| | Penalty Loop | 0.09km | | |
| | Cranmer | 2.44km | | |
| | Lynch | 1.77km | | |
| | Yurt Loop | 1.06km | | |
| | Just To Wilson | 0.24km | | |
| | Mill Gulch | 0.65km | | |
| | 4-6 Days Ago | Distance | Open | Last Groomed |
| --- | --- | --- | --- | --- |
| | Blue Ridge | 8.48km | | |